Guest Book



The past, of course, is what we are all about. However, this page is about the more recent past. It is intended to give you an overview of what we, as a society, have accomplished since our inception in February 2003.
Met with representatives of the Heritage Association of Newfoundland and of the Trinity Heritage Society.
Incorporated as of July, 2003.
Applied for charitable status. Documentation completed and sent to government for approval.
Mission statement and logo created and adopted.
Membership pins designed and created.
Letters sent to other community groups and businesses asking for financial support.
List of possible projects created.
Old graveyard in Shoal Harbour located.
Membership brochure designed and printed.
Old photos and memorabilia displayed during Clarenville Days. Read more...

Various articles published in the Packet.
Adopted the sale of Journeys Through Time as a fundraiser.
Membership drive held at the Random Square Mall, November 2003. Read more...



Quips and Quotes:

We remain safe in the hallowed quiets of the past.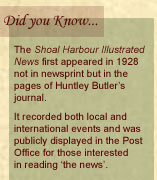 Source: Journeys Through Time - Clarenville, Hub of the East Coast. 2001.
Want to find out more about the history of Clarenville? Why not purchase Journeys Through Time - Clarenville, Hub of the East Coast by Bob Hyslop.
Proceeds of the book help support the Clarenville Heritage Society in its bid to preserve local history.
The book is currently available online at tidespoint.com,
at participating local businessses,
or by emailing info@clarenvilleheritage.ca.