Guest Book



The Clarenville Heritage Society was initially formed by a group of local citizens concerned about the preservation of local history and artifacts in the town of Clarenville.

The group first met in February of 2003 and was incorporated in June of that same year as a not-for-profit organization. Since then we have seen a number of changes in our executive positions and board members.

The present board (2019/20) consists of the following people:

Board of Directors
Stephen Bonnell - President
Vacant - Vice-President
Ruby Greening - Secretary
Mike Korpel - Treasurer
Gwen Hiscock - Director
Sam Adey - Director
Justin Hannam - Director





Regular Board meetings are held the first Wednesday of each month.

New members are always welcome!
Click on an icon to view a list of previous board members.

2003 - 2004
2004 - 2005
2005 - 2006
2006 - 2007?
2007 - 2008
Quips and Quotes:

History is a means of access to ourselves.

~ Lynn White, Jr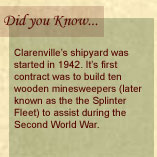 Source: Journeys Through Time - Clarenville, Hub of the East Coast. 2001.
Want to find out more about the history of Clarenville? Why not purchase Journeys Through Time - Clarenville, Hub of the East Coast by Bob Hyslop.
Proceeds of the book help support the Clarenville Heritage Society in its bid to preserve local history.
The book is currently available online at tidespoint.com,
at participating local businessses,

or by emailing info@clarenvilleheritage.ca.