Guest Book



The mission statement adopted by the society is intended to help its members focus on its primary objectives. It reads:



To collect, protect, catalogue and promote Clarenville's community heritage by displaying our history in a permanent facility.

To view our a copy of our recently amended constitution, click on the icon below:

Goals and Objectives

Some of the other goals and objectives of the society are to:
Coordinate with community service and interest groups to draw on the collective resources of the community


Provide promotional avenues to keep developments and information available for public awareness.


Promote the historic potential of the Clarenville/Shoal Harbour area


Seek funding for heritage projects including the establishment of a permanent facility (museum) to house and display collected artifacts

Quips and Quotes:

Study the past if you would divine the future.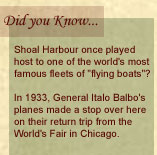 Source: Journeys Through Time - Clarenville, Hub of the East Coast. 2001.
Want to find out more about the history of Clarenville? Why not purchase Journeys Through Time - Clarenville, Hub of the East Coast by Bob Hyslop.
Proceeds of the book help support the Clarenville Heritage Society in its bid to preserve local history.
The book is currently available online at tidespoint.com,
at participating local businessses,

or by emailing info@clarenvilleheritage.ca.