Shedding Light on Our Past.
The Clarenville Heritage Society, located in the former CN Railway Station, is a dedicated group of volunteers who work hard in preserving the history of Clarenville and surrounding area.
We still have some 10th Anniversary Mugs left. Emblazed with two iconic symbols that put Clarenville on the map: The Railway & TAT-1 Cable Landing world's first transatlantic telephone cable, each mug sells for $5.00 each.
~ Directions to Heritage Museum ~
View Larger Map
Clarenville Heritage Museum is now CLOSED FOR THE SEASON. Many thanks for all the visitors we had this summer from all over, provincially, elsewhere in Canada, USA and the UK. A big thank you to our summer students Jacob and Reilly. Off-season visits can be arranged by contacting us via email.
~ 2nd Annual Smith Sound Film Festival ~
The Clarenville Heritage Society Inc. is a proud sponsor of the Smith Sound Film Festival this year on Friday October 12, 2018. Location: The EastLink Events Centre Theatre in Clarenville. We're different and open to all genres. Show us your weird, wonderful or serious thought provoking works on film. Tickets are $10.00 each. Available at the EEC Box Office 466-4105.
To submit your work, please download the submission form:

Smith Sound Film Fest 2018
Quips and Quotes:

I have but one lamp by which my feet are guided, and that is the lamp of experience. I know no way of judging the future but by the past.
---
&copy 2003-2018 The Clarenville Heritage Society.
Best viewed with "Any Web Browser" you have. We are not picky :) .
Last Updated September 03, 2018 8:25
Questions or Comments? Email: info@clarenvilleheritage.ca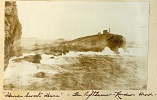 'The Coopers of Random Head' Recent Newsletter by Heritage Foundation of Newfoundland & Labrador. Click here for the article. ~ Clarenville Heritage Society.
Listen to our conversation with Mr. John Stanley of George's Brook who worked at the Newfoundland Hardwoods Plant from 1946 to 1979. An interesting account of what life was like back then in Clarenville.
Our goal is to capture more local stories from our senior citizens who have a lot to share to us as we shed light on our past. Click here for more local stories on our media page.
For more information on our project, email us at: info@clarenvilleheritage.ca.